The Teenage Years...
Michael's teenage years were filled with more success as a member of the Jackson Five and also brought him many opportunities to expand his horizons and move out on his own. The Jacksons were growing musically and becoming more interested in writing and creating their own music. In 1976, the band left Motown and signed with Epic Records. After changing their group's name to 'The Jacksons', they released several successful albums including "Destiny", and "Triumph". Michael ventured into acting in 1978, with a role as the scarecrow in a musical produced by Quincy Jones entitled "The Wiz". He co'starred with his good friend Diana Ross, whom he had known for several years and was responsible for introducing the Jackson Five to the world. While Michael was enjoying the success with his movie and his music, he had no idea of what lay ahead.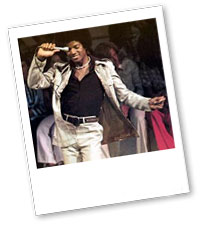 A Legend is Born...
Michael's collaborated again with Quincy Jones in 1979, when Jones produced 'Off the Wall', a highly successful collection of light hearted dance songs and soulful ballads.This album went on to sell over 15 million copies worldwide and Michael recieved a Grammy award for 'Don't Stop Till' You Get Enough'. Michael once again collaborated with Jones for his next album, Thriller. This record was released in 1982 and went to the top of the charts where it remained for 37 weeks. Thriller remains the best selling album of all time with world-wide sales of over 50 million copies. Michael's video 'Billie Jean' became the first from a black artist to be played on MTV, and the subsequent films for 'Thriller', and 'Beat It' solidified his place as one of the most innovative artists of all time. The short film for 'Thriller' remains the most requested and most played videos to date. It also set the record for most expensive video ever made, and to offset the cost of the film, Michael released 'The Making of Thriller', which in turn became the best selling home video of all time. Michael went on to recieve 7 Grammy awards for his 'Thriller' album, plus one more for his narration on the 'E.T' storybook, making him the only artist to recieve eight Grammy's in a single evening. This record still has not been broken. On March 25, 1983, Michael performed with his brothers on 'Motown 25', a televised event honouring Motown artists. After his brothers left the stage, Michael brought the house to their feet with a pelvic-thrusting, gravity defying rendition of 'Billie Jean'. It was during this performance that he unveiled the 'Moonwalk'. This "often imitated, never dublicated" backwards glide remains one of his most recognisable dance moves to this day. By the close of 1983, Michael Jackson was a living legend.